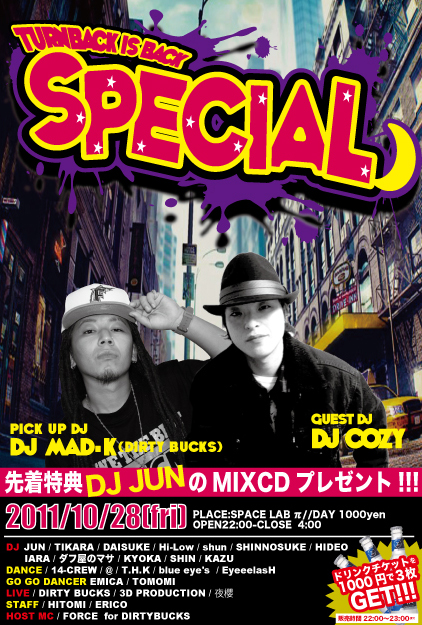 SPECIAL -TURNBACK IS BACK-
2011/10/28(FRI)
PLACE:SPACE LAB π
DAY 1000yen
OPEN 22:00
※22:00から23:00まで1000yen 3ドリンクチケットを販売します!
※先着50名にDJ JUN「SPECIAL MIX」プレゼント!
※先着10名にDJ DAISUKE MIX CDプレゼント!
★GUEST DJ★
DJ COZY
★PICK UP DJ★
DJ MAD-K
★DJ★
JUN
TIKARA
DAISUKE
shun
SHINNOSUKE
HIDEO
KYOKA
SHIN
KAZU
Little☆Miii
ゆーた
89's
★DANCE★
14-CREW
@
T.H.K
blue eye's
EyeeelasH(GO GO DANCE)
★GOGO DANCER★
EMICA
TOMOMI
★LIVE★
DIRTY BUCKS
3D PRODUCTION
夜櫻
★STAFF★
HITOMI
ERICO
で、
当日プレゼントのDJ JUN君の
MIXCDジャケットが出来ました。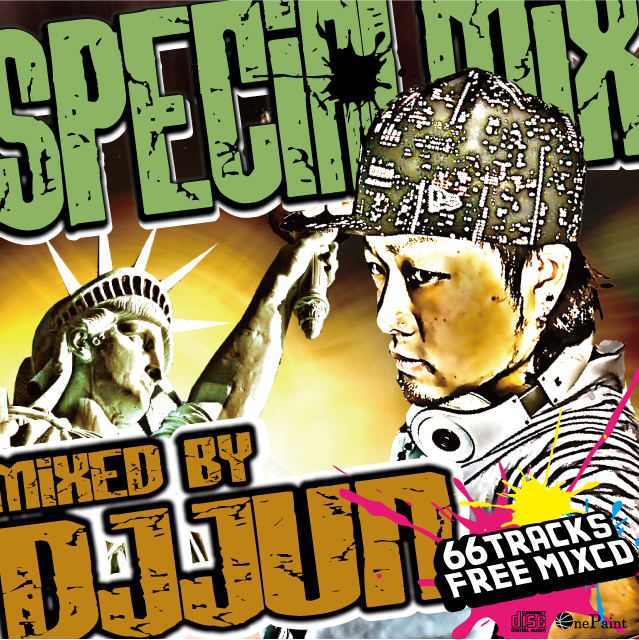 01.INTRO / DJ JUN
02.Bedrock / Young Money feat.Lloyd,FORCE(DIRTY BUCKS)
03.How Low / Ludacris
04.Bottoms Up / Trey Songz feat.Nicki Minaj
05.All The Above (Remix) / Maino feat.T-Pain & Young Jeezy
06.Kiss Me Thru the Phone / Soulja Boy feat.Sammie
07.Blowing Me Kisses / Soulja Boy
08.Lay It Down (Remix) / Lloyd feat.R. Kelly and Young Jeezy
09.NY's Independence Day Anthem / The Architect Davey B
10.Black And Yellow / Wiz Khalifa
11.6 Foot 7 Foot / Lil Wayne feat.Corey Gunz
12.I Can Transform Ya / Chris Brown feat.Lil Wayne & Swizz Beatz
13.You Know What It Is /T.I.P. feat.Wyclef Jean
14.Big Things Poppin' / T.I.P.
15.Remember Me / T.I. feat.Mary J. Blige
16.Rude Boy / Rihanna
17.Wait / Chris Brown feat.Trey Songz and Game
18.Drop It Low / Ester Dean
19.The Way You Love Me / Keri Hilson feat.Rick Ross
20.Run This Town / Jay-Z feat.Rihanna & Kanye West
21.Empire State of Mind / Jay-Z feat.Alicia Keys
22.Paper Umbrellas / Doc DJ
23.Paper Planes / M.I.A.
24.Swagger Like Us / T.I. feat.Kanye West, Jay-Z, Lil Wayne & M.I.A.
25.Check'n My Fresh / Play-N-Skillz feat.Jay-Z
26.Hero / Nas feat.Keri Hilson
27.Say Aah / Trey Songz feat.Fabolous
28.Who's Real (Remix) / Jadakiss feat.Swizz Beatz, Eve, Drag-On, Styles P, Sheek Louch, DMX
29.Top Down / Swizz Beatz
30.Pop Champagne Bitches / DJ NeilBeats
31.Arab Money / Busta Rhymes
32.Outta Your Mind / LIL JON feat.LMFAO
33.Baby By Me (Remix) / 50 Cent feat.Ne-Yo
34.Any Girl / Lloyd Banks feat.Lloyd
35.I'm Ill / Red Cafe feat.Fabolous
36.Million Bucks / Maino feat.Swizz Beats
37.Bring 'Em Out / T.I.
38.Cupid / Lloyd
39.Tie Me Down / New Boyz feat.Ray J
40.Tik Tok / Kesha
41.Your Love Is My Drug / Kesha
42.Blah Blah Blah / Kesha feat.3OH!3
43.Shots / LMFAO feat.FM
44.Drink / Lil Jon feat.LMFAO
45.We Found Love / Rihanna
46.Only Girl In The World / Rihanna feat.Fatman Scoop
47.Give Me Everything / Pitbull feat.NeYo, Afrojack, Nayer and Demian Ngo
48.Party Rock Anthem / LMFAO feat.Lauren Bennett and Goon Rock
49.Champagne Showers / LMFAO feat.Natalia Kills
50.Celebration / Madonna feat.Akon
51.Yeah 3x / Chris Brown
52.Beautiful People / Chris Brown feat.Benny Benassi
53.Club Can't Handle Me / Flo-Rida feat.David Guetta
54.Turn Around (5,4,3,2,1) / Flo-Rida
55.Fire Burning / Sean Kingston
56.Party All Night / Sean Kingston
57.Born This Way / Lady Gaga
58.Sex On The Beach / Spankers
59.We No Speak Americano / Yolanda Be Cool feat.Dcup
60.Bon Bon / Pitbull
61.Run The World (Girls) / Beyonce
62.Drop It Low (Remix) / Kat Deluna feat.Ace Hood
63.On The Floor / Jennifer Lopez feat.Pitbull
64.Baby / Justin Bieber
65.Down / Jay Sean feat.Lil Wayne
66.Super Bass / Nicki Minaj
先着みたいですのでお早めに!